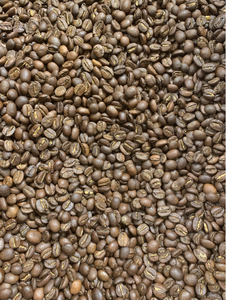 Organic. Roasted nutty flavor, smooth, well balanced, low acid.
ORIGIN INFORMATION
Grower
Coffee producers associated with coffee factories in Kenya
Variety
SL28, SL34, Ruiru 11 and Batian
Harvest
April-June|October-December
Altitude
1400 - 1800 meters
Process
Fully washed and dried on raised beds
Kenya AA Plus Ecotact is sourced from the Kenyan open auction system (Nairobi Coffee Exchange), where the quality of the coffee and generally transparent access has been credited for strong prices relative to other coffee origins. Most coffee is grown in the fertile foothills of Mount Kenya. Farmer plots are so small that size is gauged by the number of trees rather than the measurements of the land, which means producers often have more control to strategically pick and deliver only the ripest cherry to their local factory (wet-mill). Factories generally have an abundance of water lending to exquisite washing protocols that include soaking the beans in fresh water for long periods of time to solidify the hallmark Kenyan profiles.